The Nothing Factory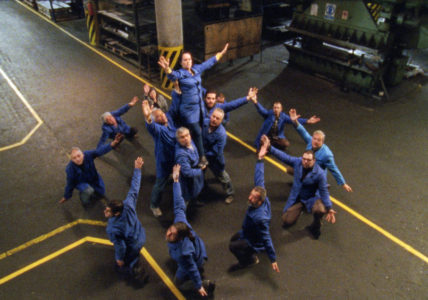 What can happen in a factory where all the machines disappear overnight?
The workers at a lift factory are surprised one morning to find someone has taken all the machines. There are many interpretations of the situation, but they eventually settle on one – there are going to be massive lay-offs. Many of workers refuse to take part in the negotiations and instead decide to occupy the factory. But when the company executives suddenly disappear, the workers are left alone in a half-empty factory… This genre-crossing film, full of surreal humor and hyperbole, even unabashedly incorporates even elements. The Portuguese film festival hit is also commentary on the economic crisis the country has struggled with.
Awards: FF Cannes 2017: FIPRESCI Prize. Munich FF 2017: CineVision Award. Duhok IFF 2017: Jury Award – Best direction. Miscolc IFF 2017: Adolph Zukor Prize. Barcelona Independent FF 2017: Best Feature Film. Seville European FF 2017: Best Film. Torino FF 2017: Special Jury Award, Special Mention. And other prizes.
                                                                   Portuguese Embassy in Czech Republic
Program